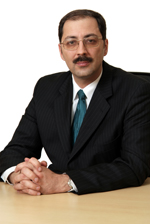 Dmitry Gudzenko
Director, «Specialist» Computer Training Center
He is a candidate of technical science, a student graduated from Bauman MSTU, the member of such associations as MAPDO, LERN (USA). He is the first
LERN Certified Program Planner
in Russia (certified head of the educational centre of complementary education), Microsoft Office Specialist. He has more than 50 publications on the theme of complementary education in IT.
In 1992 he created and headed the Centre of computer education «Specialist» affiliated by Bauman MSTU. This time The Centre is the biggest educational centre in Russia with the annual capital turnover over 10 million dollars. Over 70 classes of the Centre are situated in Moscow. Over 3000 of listeners study courses in the Centre each month. From the 2002 year the Centre have already won first places in sectoral rates and got awards from leading IT-vendors (
Microsoft
,
Autodesk
and
others
) and social organizations (The Fund of protection of consumer rights, Chamber of Commerce and Industry).
The web-site of the educational Centre is
www.specialist.ru
. It is the biggest Internet shop of courses in the Russian Internet (over 10000 visitors per day). Also it possesses such awards as
«Russian Internet award 2008»
,
«Best Web Page'2008»
of LERN association.